Touch-Up Your Roots with Less Mess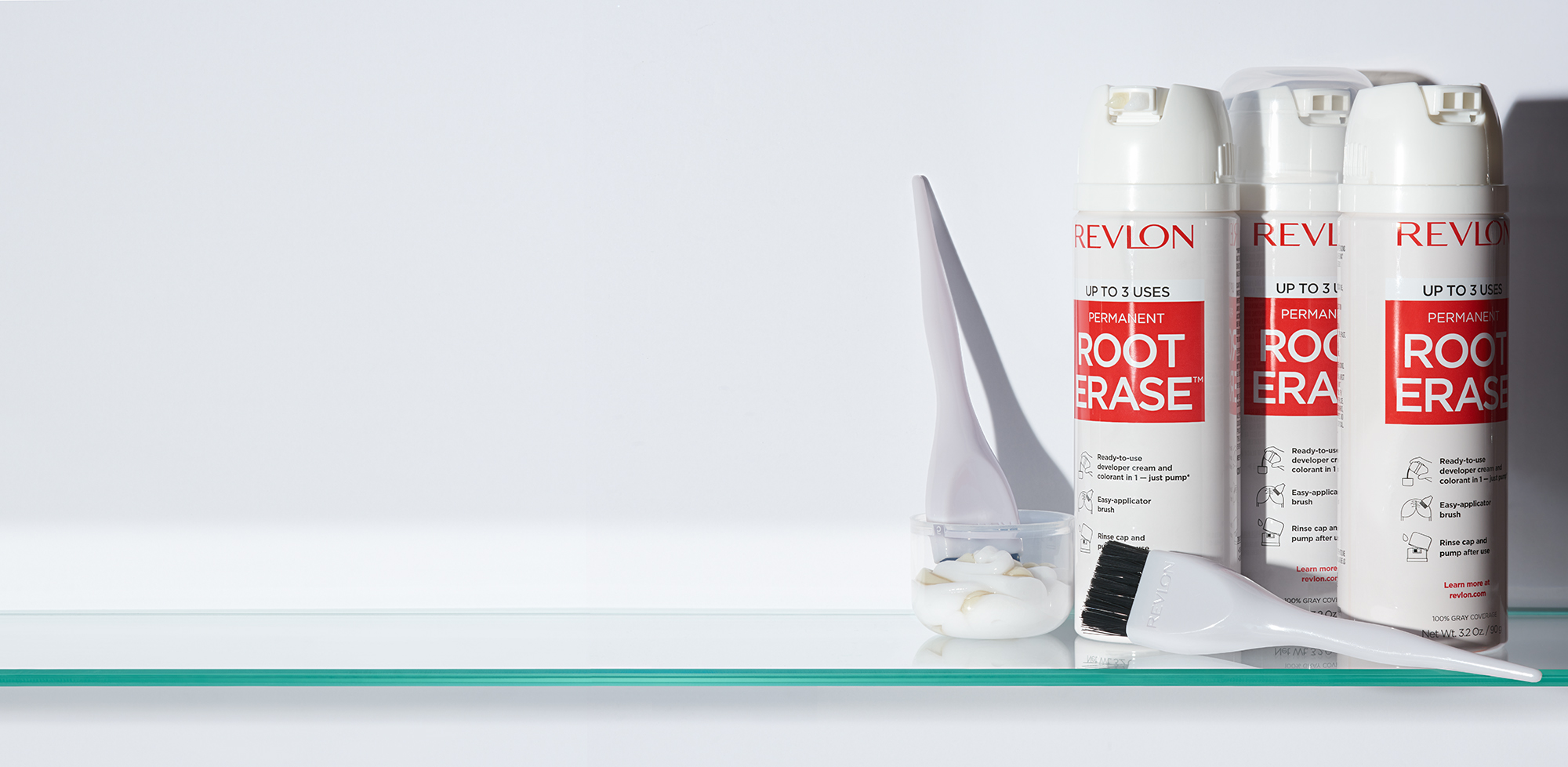 You like your hair color looking lush and freshly done, 24/7. But do you have the time and patience to sit in a salon chair for hours—or deal with the mess of retouching your roots at home? Not a chance.
It's exactly this kind of #firstworldproblem that makes new Root Erase Permanent Root Touch-Up Kit your new best friend. This beauty breakthrough marries an innovative formula with ingenious packaging that makes life infinitely easier—and disguising those days and weeks between coloring sessions simpler, faster, and less messy than ever.
We can thank Revlon's hair team—and their personal frustrations with coloring their hair at home—for Root Erase. First, being fastidious scientists, they really didn't appreciate how messy touching up your roots could be. Second, the process always seemed to take longer than you wanted to spend on it. And, then there was the whole "keeping your fingers crossed that you picked the right shade," thing. Oh, and if you didn't need to paint the entire kit on your head in one session? Well, you just threw half a box of hair dye away for nothing.
Root Erase took two years to perfect, but the team did create a kinder kit for all, including:
The fast-acting formula. Root Erase is actually twice as fast as traditional root-touch-up kits: "We leveraged a technology that promotes fast dye penetration into the hair shaft," says Olga Colom, Revlon's Research & Development Senior Manager of Global Hair Color at the hair-color labs in Barcelona, Spain. In simpler terms, think of this technology as our Trojan horse of sorts, getting the dye into your hair shaft where it can work its magic in as little as five minutes instead of the usual 10.
The cool can. It not only saves you on the mess front, but gives the formula serious stamina. With typical kits, the colorant and the developer come in two separate containers; once they're opened and exposed to air, they oxidize, making whatever you don't put on your head at that very moment unusable. With Root Erase's dual-sided can, however, you get both parts of the formula in one place and a special pump that dispenses just the right amount of each with the press of a button, so most of the mixing is done for you and the formula stays stable. That means you can use this touch-up kit up to two more times (whether you missed a spot or have fast-growing roots; we even included three pairs of gloves!).
The super-simple, double-duty cap. It may just look like any old plastic lid, but this particular plastic lid was designed to replace the typical mixing bowl. "One day we were in the hair salon opening hair-color kits and someone on the team said how overwhelming it was to find so many things in a kit… At this moment we knew we had to be more inventive," Colom recalls. "Marketing came up with the idea of using the cap as a bowl and our packaging engineers adapted it so that it would work."
The match point. Here's our "last but not least": As this product is meant for the hair just at your scalp, our 13 vibrant shades match your root color to the length of your hair. It's what Colom calls "the sweet spot"—between covering grays and matching the shade that your overall hair dye will have settled into by the time your roots become visible. Our scientists also took care to create shades that match most hair dyes on the market, whether you color your hair at home or in a salon. Our matchy-matchy promise has been vetted not only by elaborate tests and Revlon's "expert color graders" (these people exist!), but by real women in our New York City offices, too. Revlon employees got the chance to test Root Erase early on, and their feedback (and excellent eyesight) helped perfect the shades, the packaging—pretty much everything.